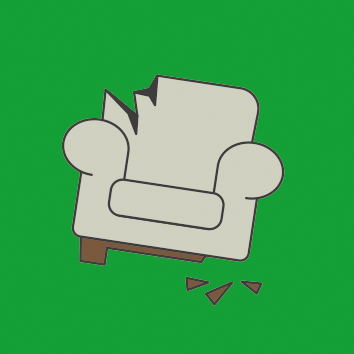 Bulky waste, also known as bulky household waste, refers to items in your home such as a broken chair and discarded table. These are items and materials that should not or do not fit in your residual waste container or in the collection containers nearby. And items that you can no longer get repaired, sell, give away or take to a thrift shop.
What will change about the bring-and-collect service for bulky waste?
You can self-disposal of bulky waste to one of our environmental centres or at your home pickup. Residents of Gorinchem, Hardinxveld-Giessendam and Molenlanden will pay a fee for this bring-and-collect service for bulky waste from 1 January 2024. The municipalities are introducing this change to keep waste disposal costs manageable and more fairly distributed. It ensures that the 'polluter pays' and you only pay for your own bulky waste.
Residents of Vijfheerenlanden will not have to pay separately to take away or have bulky waste collected. This municipality will decide on the introduction of these fees later.
Why will you pay for your bulky waste?
A tariff on bulky household waste appears to work well to reduce combustible bulky household waste. With a tariff on bulky waste, we encourage residents to sort their bulky waste and take it apart at home and bring it separately to an environmental street. Many materials can be reused. Better for the environment and your wallet.
We also want to counteract commercial waste at the waste recycling centres with the introduction of tariffs. Currently, the 'company car rule' applies where we ban vans with grey registration plates. This rule does not work sufficiently well. With the introduction of tariffs, the financial advantage for contractors and gardeners, for instance, to dump their commercial waste free of charge will disappear. Companies must take care and pay for the disposal of their industrial waste themselves. Residents are never supposed to pay for this.
Going to the waste disposal site? Don't forget your environmental pass!
From 1 December 2023 you are welcome to attend all our recycling points with an environmental pass.
Bringing waste and raw materials free of charge
You can bring the following raw materials to the recycling centre separately without any restrictions. You therefore do not have to pay separately for them.
Note: you do need your environmental pass to access the environmental street.
Asbestos
Tyres without rim
Chemical waste (kca)
Electrical appliances
Deep-frying oil
Gas cylinders
Glass (coloured and white)
Hard plastic
Mattresses
Metal (iron)
Paper and cardboard
Styrofoam (eps)
Textiles
Flat glass
Bulky waste delivery 3 times a year free of charge
From 2024, a tariff will apply to a small number of types of waste and raw materials. Do you live in the municipality of Gorinchem, Hardinxveld-Giessendam or Molenlanden? If so, you can bring one or more of these types of waste and raw materials to the environmental street with your environmental pass 3 times a year without having to pay separately. From the fourth visit onwards, the fee dlt. You pay for this directly at the gate to one of our employees. For your and our safety, you can only pay by pin.
Environmental waste tariffs 2024
Waardlanden environmental pass

Gorinchem, Hardinxveld-Giessendam and Molenlanden (first 3 visits free)

Vijfheerenlanden

Type

Quarter cubic metre (¼ m3)

Per half cubic metre (½ m3)

Coarse garden waste

Free

€ 7,00

Free

Rubble

Free

€ 7,00

Free

Clean wood

Free

€ 7,00

Free

Impregnated wood

€ 10,00

€ 20,00

Free

Gypsum/ aerated concrete

€ 10,00

€ 20,00

Free

Bitumen (roofing membrane)

€ 10,00

€ 20,00

Free

Bulky household waste

€ 10,00

€ 20,00

Free
Bulky waste collection at home?
From 1 January 2024, residents of Gorinchem, Hardinxveld-Giessendam and Molenlanden will pay to have bulky waste collected at home. This collection rate has not yet been set. The cost for a bulky waste appointment is per cubic metre (1 m3). A maximum of 2 cubic metres (2 m3) to be collected. You can make a bulky waste appointment on our website and pay directly with iDeal from 1 January 2024. Make here a bulky waste appointment.
Bulky waste that residents have collected from their homes is residual waste and is incinerated. A shame, as bulky household waste contains many valuable materials that can be reused. With a fee on this bulky waste collection service, the municipalities encourage residents to sort their bulky household waste, disassemble it at home and deliver it separately to the environmental centre. Less then needs to be incinerated and more raw materials can be recycled. In this way, we ensure more circular and sustainable waste management in the region.
After the collection tariff is introduced, we will collect your bulky household waste from your home within 10 working days. Now, the waiting time can be as long as two months. This long waiting time is especially a problem for many small householders. So bulky waste collection at home is now free, but the service is low. People now have to wait a long time after making an online collection appointment.
Questions?
Do you have a question about the rates for bulky waste?
> Find answers to frequently asked questions about the rate on bulky waste here